You've finally decided to purchase a Cricut digital cutting machine. (Yay for you!!!) Now, you've got to choose between the Cricut Maker vs. Cricut Explore. That's a tough choice, but I'm here to help!
First, let's start by talking about what each machine is. The Cricut Maker 3 and the Cricut Explore 3 are digital crafting machines that allow you to cut different materials with a blade to create whatever your imagination desires! That means no more scissors or X-Acto knives!
Before we detail each, I want to say that the Cricut Maker and the Cricut Explore are great machines. I've worked with the Cricut Maker and Cricut Explore Air for years before getting the latest versions and I'm totally blown away by what they can do! They have their own pros and cons, so it's important to know about them before you buy one.
I know that sounds like a lot to process but don't worry, we'll cover everything you need to know to make the best choice in this article. From physical measurements to available accessories to the final costs, you'll feel much more informed at the end of this post!
What is the difference between the Cricut Maker and Explore?
There are quite a few differences between the Cricut Maker and the Cricut Explore family. Each machine has its own perks and limitations, from differences in sizes to which materials they can cut.
Being fully informed on these differences will help you in your decision-making process. If at any point you get overwhelmed with your choices, take a break and come back to this article when you're ready.
I've included a handy flow chart at the bottom of this post that really simplifies your choices. We'll cover each section of the flow chart and everything in between, but it's a nice visual representation.
I suggest reading through this entire article first and come up with an idea of which machine would be better for you. Then go through the simplified flow chart to really solidify that you made the right choice.
That way, you'll know without a doubt that you made the right decision! The last thing I want is for you to regret your purchase because you chose the wrong machine.
By the end of this article, you'll know everything about these machines and which is best for you! Let's get started!
Physical differences of the Cricut Maker and Cricut Explore
Let's start with the physical features! The Cricut Maker 3 is 22.1 inches wide by 7.1 inches deep by 6.2 inches tall, and weighs 15.4 pounds. It's a bit bulkier than the Explore 3, which is 22.2 inches wide by 7 inches deep by 5.9 inches tall and weighs 11 pounds.
If weight is an issue, the smaller Explore 3 may be your better option. It's still a solid machine, but it's slightly easier to lift and carry around. If you have any physical conditions that might make lifting a bit difficult, the Explore 3 is more manageable.
If you plan to leave your Cricut machine out on a shelf or countertop, this won't be an issue. I rarely move mine, so this isn't a huge deal for me.
Both the Cricut Maker and Explore have built-in handle cutouts for easy carrying. Super helpful when trying to lift the machines from a solid flat surface!
As for the actual dimensions of each machine, they're very close. One inch taller or shorter doesn't make that much difference!
Other characteristics that both machines share? Both have a built-in mobile device holder, can cut Smart Materials up to 13 inches wide and 75 feet long, cut the same Print Than Cut size, and connect via Bluetooth or USB.
The Maker 3 has an additional charging port on the side so you can charge your mobile device while cutting. Now you can charge your phone or tablet while working on a project. Handy if you're planning on marathon crafting sessions!
Another physical difference between the machines is color. The Maker 3 comes in a light blue tone, while the Explore 3 comes in classic mint green.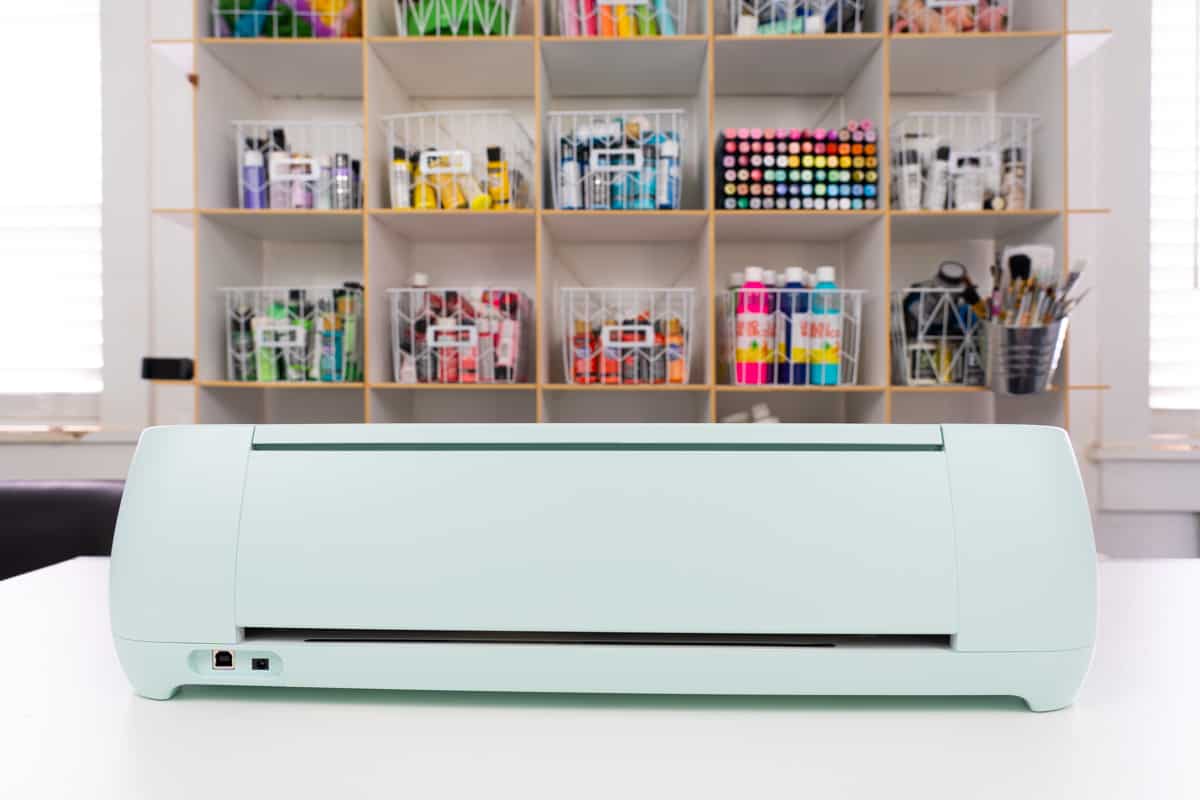 This one is totally a preference thing. I really like the mint green Explore 3, but I've seen several people loving their blue Maker 3s!
If you're super particular about colors, there are third-party vinyl skins available for purchase. They let you add your own design to the machine without having to buy new ones.
Both have a matte finish to keep your machine looking nice and clean!
Accessories available for each machine
Cricut is well known for the wide variety of accessories available for their machines, and they didn't disappoint for the new Cricut Maker 3 and Explore 3. While they have several different accessories available, we're going to focus on the most popular ones.
It's worth mentioning that Cricut offers bundles with their machines. These are great because you can get everything you need for less than buying things separately! I'll talk a bit more about the bundles in the price section below.
All of the older accessories work with both the new Cricut Maker 3 and Cricut Explore 3. These include the Foil Transfer Kit, pens and markers, machine mats, and Tool Sets.
Cricut has released a new Roll Holder that works with both machines and is essential when working with large projects! It'll hold rolls of Cricut Smart Materials from 4–75 ft, allowing you to utilize the power of both machines fully.
The main difference in accessories available for the Cricut Maker Vs. Cricut Explore is the wide variety of tools exclusive to the Maker 3. These allow the Maker 3 to cut over 300 different materials, whereas the Explore 3 cuts around 100 different materials. You can find a full listing of all the different materials each machine can cut on this handy chart over on the Cricut site.
We'll go into more detail on the Maker's tools in the next paragraph!
Materials that can be cut by Cricut Maker Vs. Cricut Explore
I've used the Maker and Explore for years and the variety of materials they can each cut is the biggest difference between the two machines. When people ask me which of the two they should buy, my first question is, "What materials are you planning on cutting?"
If their answer is "paper and vinyl," I usually recommend the Explore 3. It'll be able to do everything they need and so much more!
If, however, their answer includes wood, fabric, or that they would like their options to be open, the Cricut Maker 3 is my go-to recommendation.
Cricut Maker 3, with ten times the cutting power of Cricut Explore family machines, is a dream come true for crafters who love trying new materials! This feature allows it to cut a huge variety of materials. From super-thin chiffon to thick chipboard, the sky is almost the limit with possible projects with the Maker 3!
Here are the tools available for Explore 3:
Compare those to the tools available for the Maker 3:
Based on those two lists, you can now see why I ask a new Cricut user what materials they plan on cutting. If they want to cut a few iron-on pieces of vinyl or Infusible Ink projects and have no plans to extend beyond that, the Explore 3 will do the job nicely. If they want to cut wood or fabric and have an open mind about trying different materials in the future, I would recommend going for the Maker 3.
The Maker 3 is definitely the choice if you're a bit more adventurous with your material choices. If you're uncertain about what options you might need in the future, I highly suggest purchasing the Maker 3 to cover all of your bases.
Check out this blog post of mine if you want to go into more detail on Cricut tools for the Maker!
Pricing for each machine
Of course, materials and accessories aren't the only factors you should consider when deciding which Cricut machine to buy. You also want to consider how much you can afford in your budget.
The Cricut Maker cost is regularly priced at $399.99 compared to the Explore 3 at $299.99. Both of those are a steal when you consider just how much you can create with either machine!
Keep in mind that Cricut often has promotions and deals, so you may be able to find a better price at any given time. Also, their bundle deals are absolutely amazing if you're in the market for more than a machine.
The Cricut Maker 3 Everything Bundle contains the machine, as well as a large selection of Smart Vinyl, Smart Iron-On, and other supplies to get you started right away for only $499.99. That's a savings of over $150! The Cricut Explore 3 Bundle is a similar bundle that goes for $399.
You can check out all of the Cricut Bundle Deals over in their shop. From vinyl bundles to EasyPress bundles, there's something for everyone! Just a tip, though, make sure to snatch up those Cricut deals quickly. They're known for selling out!
Which one should you buy based on your needs and budget
I hope this article has helped you understand the key differences between Cricut Maker Vs. Cricut Explore. Only you will know which of the machines is truly the best for your situation.
The two main factors to consider when buying a Cricut machine are the type of projects you want to create and your budget. If you need to quickly cut a few pieces of vinyl for your latest project, the Explore 3 will do that nicely. If, however, you want to create projects involving wood, fabric, or multiple types of materials in one go, the Cricut Maker 3 is an excellent choice!
I've created a handy Decision Making Flow-Chart to help you decide. After you've read through this entire article and gone through the chart, you should have a pretty good idea of if the Cricut Maker 3 or Cricut Explore 3 is the machine for you!
Conclusion
The two devices are quite comparable, but there are a few details you should be aware of before making a decision about Cricut Maker Vs. Cricut Explore.
The machine's cutting capabilities are the first and most important factor to consider. As previously said, the Cricut Maker can cut more materials than the Cricut Explore family of devices, so if you want to do any woodwork or fabric work, this is the one to choose!
Also, consider how much these will cost you. The manufacturer's suggested retail price of the Maker 3 is $399, while an Explore 3 costs around $299. If your budget is limited, I recommend choosing an Explore 3 since it has most of the capabilities of the Maker 3. However, if you want to do more than just vinyl cutting, the Maker 3 is definitely the way to go.
When you're ready to make a purchase, don't forget that Cricut often has deals and bundles available for both machines. You may be able to get an even better deal at the time of purchase! Good luck making your decision. If you love it as much as I do, let me know which machine is your new best friend in the comments!
I hope this post clarified everything you wanted to know about these two machines. If there is anything else that I can answer for you, please don't hesitate to reach out! You can find me on Facebook, Instagram, and Pinterest. You can also email me if you have any questions I can answer.
In the end, I'm sure that whatever choice you make, you're going to love your new Cricut machine. These are awesome tools that bring the joy of creating into your own home. I'm so glad that Cricut has made these available to everyone and they're constantly making them better and more affordable!
Please remember to leave a comment below. I'd love to hear what you think about Cricut Maker Vs. Cricut Explore!